Hon. Mark McCannon – Transcript

Louis Goodman 00:07
In collaboration with the Alameda County Bar Association, this is Love Thy Lawyer, where we talk with members of the ACBA about their lives and legal careers. I'm Louis Goodman, the host of the LTL podcast and yes, I'm a member of the Alameda County Bar Association.

Mark McCannon sits as an Alameda County Superior Court Judge. Before taking the bench in 2013 upon appointment by then governor Jerry Brown, he served as an Alameda County Deputy District Attorney. He was the head of the Stalking Unit in addition to trying numerous misdemeanor and felony cases. He is a member of the Charles Houston Bar Association, the California Affinity Judicial Association, and of course the Alameda County Bar Association.

Judge McCannon, welcome to the Alameda County Bar Association and the Love Thy Lawyer podcast.

Hon. Mark McCannon 01:08
Good morning. Oh, good afternoon, actually.

Louis Goodman 01:10
If you're the judge and you say it's morning, then it's morning, if you say it's afternoon, it's afternoon.

Hon. Mark McCannon 01:19
I wish it was so, I wish it was so.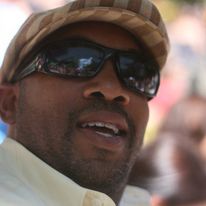 Louis Goodman 01:21
Where are you sitting on the Alameda County bench these days? What department are you in?

Hon. Mark McCannon 01:26
Well, I'm currently at the René C. Davidson Courthouse, which is the courthouse by Lake Merritt. I'm in department five and I'm handling felony jury trials. I do handle misdemeanor jury trials that are sent from the Wiley Manuel Courthouse that need to be tried. I also handle preliminary hearings.

Louis Goodman 01:47
And how long have you had this assignment?

Hon. Mark McCannon 01:50
I've been in department five maybe two years. And then I was in department 11 and I was in department four. So I've been in this courthouse probably around four or going on five years.

Louis Goodman 02:04
Where are you from originally?

Hon. Mark McCannon 02:05
I was born in San Leandro and I was raised in Los Angeles.

Louis Goodman 02:09
So did you go to high school in Los Angeles?

Hon. Mark McCannon 02:12
Yes.

Louis Goodman 02:13
What high school did you go to?

Hon. Mark McCannon 02:14
Daniel Murphy high school, all boys Catholic high school.

Louis Goodman 02:17
And after you graduated from high school in LA, where'd, you end up going to college?

Hon. Mark McCannon 02:23
I went to Sonoma State for two years, which is up in Cotati, or Rohnert Park for two years. And then after some discussions with mother, I decided to transfer to UCLA. So I transferred back down to LA, and I finished up at UCLA.

Louis Goodman 02:40
That was really quite a difference in college experiences. I mean, Sonoma State has a beautiful small campus, but UCLA is like one of the really huge schools in the middle of one of the biggest cities in America.

Hon. Mark McCannon 02:55
Right. I mean, right now, Sonoma is a bit bigger, but when I went there, there was nothing there. It was very small. I loved it. Everyone knew each other. It was a great environment. So I went to Sonoma for two years and then I came back down to UCLA.

Louis Goodman 03:11
Did you go directly to law school from UCLA or did you take some time off?

Hon. Mark McCannon 03:17
I took a year off. I worked at an entertainment law firm in West Hollywood and I thought I wanted to go into entertainment law. And, you know, I worked there with a free lawyer law firm and they handled some very high, some celebrities, Johnny Depp, Jada Pinkett, Ally Sheedy, people like that, Quentin Tarantino. So I worked there because I thought I wanted to do that. But after working there, I decided I do not and I wanted to go to law school, but I didn't want to deal with the health and entertainment industry.

Louis Goodman 03:55
When did you first think, I wanna go to law school, I wanna be a lawyer? When did that first come up for you?

Hon. Mark McCannon 04:01
Well, a good friend of mine, actually, he's my fraternity brother, Paul Henderson. He used to work in the DA's Office in San Francisco. We went to UCLA together and we were talking about careers. And he said, "Well, I'm going to law school." And he ended up going to …. And he said, "you might wanna look in", and I was still in school, … and we talked and I decided, Hey, this might be a good career for me.

Louis Goodman 04:28
Where'd you go to law school?

Hon. Mark McCannon 04:29
McGeorge in Sacramento.

Louis Goodman 04:32
And how was that experience having come from UCLA in your hometown and the kind of glitz of LA and then being in Sacramento?

Hon. Mark McCannon 04:44
It was kinda like Sonoma. What I chose to do is find a small group of friends. You know, people you can trust, study with that, you know, that cared about you and that's why I kept throughout law school. And I'm still friends with all of those people for this day.

Louis Goodman 04:59
Do you think having taken a little time off between college and law school and then working in the industry was helpful to you in terms of focusing?

Hon. Mark McCannon 05:11
Yes. You know what, I didn't, I really didn't know any lawyer. I was exposed to the entertainment industry in Los Angeles. So I had some exposure, but I didn't know any lawyers. And I didn't know of, you know, what made things tick.

Louis Goodman 05:25
When you got out of law school, you ultimately ended up at the Alameda County District Attorney's Office. Can you tell us a little bit about how that happened?

Hon. Mark McCannon 05:35
They were doing interviews. So at these, at our law schools, usually what they do is they set up interviewing day. Government agencies, they come in and you sign up for the interview and they give you an interview. And at that time, Alameda came down and they were interviewing. And they interviewed over 400 people and they select 10 or 12 for a summer program.

So I was in their summer program. I tried a couple of cases. I handled motions, motions to suppress. I wrote motions. I did a lot of observation and I really loved it. And at that point in time, I was like, "This is what I wanna do."

Louis Goodman 06:16
What is it about the experience that you loved?

Hon. Mark McCannon 06:20
Well, just, you know, being able to try a case, being able to do something good for someone, helping out, just being, you know, cause I think of it as more community service or public service, like just actually helping, not lining my pockets or, you know, but I'm actually doing something meaningful and it was just, it seemed like it was uplifting.

Louis Goodman 06:42
Would you recommend the law to a young person who is thinking about a career choice?

Hon. Mark McCannon 06:46
I would, and it just really depends on what you wanted, because I know a lot of people that get in law and they get into it and then they realize 'I hate it', or 'I hate the people that I have to deal with', you know? So you have to really know what this job entails. So you really need to do your research.

You have to know that a lot of the things that we deal with are depressing. We see some of the horrible things in life. If a case comes before me, something bad has happened to somebody. We need, we need more lawyers that are interested in public service, and that just know that this is a grind. It's not something easy to do. You really need to pay attention. You've got people's lives in your hands sometimes, and you can't afford to have a bad day.

Louis Goodman 07:33
What do you think is the best advice you've ever received, and let me just flip that as well and ask, what advice would you give to a young lawyer starting out?

Hon. Mark McCannon 07:43
You need to establish relationships. You need to worry about your reputation. You might win a case, but if you've done some things that were unethical or unprofessional to get to that point, that's gonna hurt you in your career. Always realize that people talk, all right? People talk about people that don't tell the truth. It happens, and you don't want to be one of those people. So you always want to be honest so that people will trust you. Also find a mentor, treat your staff with respect and kindness. They deserve respect too. That's all.

Louis Goodman 08:23
What advice do you have for people, attorneys who are coming in front of you as practicing attorneys, what sort of things do you like to see and what sort of things do you not like to see?

Hon. Mark McCannon 08:37
All right. I'd like for you to be on time, but if you're late then, okay, give me an excuse and own your lateness. Be prepared. You should know your case better, or both attorneys should know the cases. I've had cases where one attorney clearly knows more than the other. And that shouldn't be the case. I know it's an adversarial process, but at the same time, everybody can be cordial. That goes a long way with me because oftentimes when people have this animosity and they're rude towards one another, I don't hear their arguments because their behaviors are a distraction to me. I tell folks, "Look, stop the name calling, stop all of this animosity so that I can hear what you're saying, 'cause right now, all I see is you being unprofessional." It becomes an obstruction.

Louis Goodman 09:28
When did you first start thinking about being a judge and what prompted that as a career choice?

Hon. Mark McCannon 09:37
I think after 16 years in the DA's Office, a number of people approached me and said, "Hey, why don't you put your name in?" And I wasn't thinking about that. I thought that I was gonna be a career prosecutor, but as I saw the climate in California changing, you know, I just thought that maybe I could do more as a judge. I've done a lot as a DA, maybe I could do more as a judge and help the community out a little bit more. And I decided, this is what I wanted to do.

Louis Goodman 10:05
Is there anything that you know now that you wished you'd known before you made the move to the bench?

Hon. Mark McCannon 10:14
Yes. I wish I would've known that when you first get appointed, there really aren't that many resources or let's see, I wanna say classes or instruction on what you're doing. So I started in Hayward with the busiest calendar in the county and I really didn't have a clue as to what I was doing. You really have to hit the ground running. You really do, and you can't afford to have a bad day and let your own, whatever's happening to you affect the way that you deal with folks in your courtroom.

Louis Goodman 10:55
Do you think the legal system is fair?

Hon. Mark McCannon 10:57
In some respects, yes, and some no. I mean, I have seen when I was an attorney, if you came from a certain background, alright, you were gonna get bail or O.R.'ed. If you came from another background, you were staying in custody the whole time. And even if I didn't object, I said, I'm fine with an O.R., I'm fine with bail being set, sometimes my request was even denied.

So yeah, I don't think that it's necessarily fair. I think that oftentimes, you know, people are convicted in the media before even see a courtroom. And I think that that sometimes can play into how your case gets handled. I can't speak for everybody else. I wish I could say that for everybody else, but I can't. I know that I try and be fair.

Louis Goodman 11:52
I first came into the Alameda County system as a Deputy DA in 1980. Things have changed a lot since then and the bar and the bench is far more diverse than it was at that time. And I'm just wondering if you have a comment about that.

Hon. Mark McCannon 12:11
Yeah. I am happy that it's more diverse because California is diverse. So I think that the judiciary should reflect the population. So I love it when I see more African-Americans being appointed more. Asian-Americans, more Latino-Americans because I think that we're kind of a melting pot here in California. And I think that everybody should be represented because sometimes people from different backgrounds have better insight into certain things that are going on, you know, certain individuals. And I think that if you have just one group of judges that say is predominantly white, I just don't think that that represents the diversity that's in California.

Louis Goodman 13:00
I'm gonna shift gears here a little bit, your Honor. What's your family life been like and how has practicing law and being a judge fit into that?

Hon. Mark McCannon 13:11
As an attorney, I was married, but I only, I had a son at the time. So I had a little baby and when he turned two, I had another child, that's when I was appointed. So I had two young ones at the time. It wasn't that, I wanna say that I had more time for my family because I left this stuff, the judicial stuff in the office, I did not take it home. Whereas as an attorney, you would take work home. So when they give you cases, when you're an attorney, I don't care what you think they want you to win those cases. And if you don't, that pressure of not winning a case can really bear down. I don't have that now.

Louis Goodman 13:55
What sort of recreational pursuits have you taken up in order to kind of get your mind off of things when you are off the bench?

Hon. Mark McCannon 14:05
Well, Lou, I remodeled my whole house, but I really liked remodeling kitchens, bathrooms, things like that.

Louis Goodman 14:14
Where'd you learn how to do that?

Hon. Mark McCannon 14:16
Well, it's funny 'cause I bought a condo in Alameda when I was a DA and at the time, well he's still my friend Mike Nieto who works for the DA's Office, came over to see my house and Mike says, "Are you gonna keep this?" you know, looking at the layout of the kitchen and just the colors and like, I'm gonna take all this down. I don't know who's gonna do it. But, I'm gonna change it. He's like, "Let's just do it together." And I'm ripping cabinets down and my mother comes over and she says, do you know what you're doing? And me and Mike, "No, but we're gonna figure it out." So that's how I started.

And then I ended up doing that whole house and my father-in-law is also a carpenter. So he has taught me a great deal in terms of electrical, just building things. Building the fireplace mantles, you know, things like that, building islands. So I've been able to, I learned all that from him and from just looking up stuff on YouTube.

Louis Goodman 15:25
Let's say you came into some real money, let's say three or four billion dollars. What, if anything, would you do differently in your life?

Hon. Mark McCannon 15:34
I would probably quit my job. I love my job, but if I had a billion dollars, I'm gonna hang out with my kids and just make sure that I'm there for them every day, drop them off, pick them up, things like that. I would donate to my church, of course, I'd donate to charities because with 3 billion, you got enough to last you a thousand lifetimes, you should be helping somebody out. So I don't know. I just know that I would want to help people with that money. I wouldn't want to sit on it. And, you know, because I think that there's more than enough to go around, but I don't think that I would be doing this job. I think that I would be giving back, I think in a different way.

Louis Goodman 16:15
Let's say you had a magic wand, there was one thing in the world, the legal world, or otherwise that you could change. What, what would that be?

Hon. Mark McCannon 16:21
I would change… just one thing?

Louis Goodman 16:24
Yeah. The magic wand only works for one thing.

Hon. Mark McCannon 16:27
I think I would change the mental health crisis in the world. I think that that feeds into a lot of things. It feeds into homelessness, it feeds in to crime, you know, just people just not being happy, suicide. I would probably change that.

Louis Goodman 16:44
If you had 60 seconds on the Super Bowl to put a big message out to the entire country, what message would you like to put out on the Super Bowl?

Hon. Mark McCannon 16:54
I think would have to do with some, you know, with kindness, you know, treating people with respect, you know? Cause I think that when, when you're kind to people and you treat them with respect, you're gonna get that back. And when you don't, that's when things go haywire and I think that bad things can happen, but it would be something along those lines.

Louis Goodman 17:11
I'm gonna open it up to the other people who are here with us. Helen Hoeffel, can you unmute and join us? And do you have a question or a comment for Judge McCannon?

Helen Hoeffel 17:23
Yes, absolutely. I was glad to hear you mention mental health, because that my question was going to be surrounding that. I also agree that it's such a huge problem in our society. And I know it affects the judicial system. I'm a panel attorney with the First District Appellate Project. And so a lot of my clients are homeless, you know, I can't get ahold of them. They just cycle through the system, you know, over and over and over. And most of my clients, I would say definitely the majority have mental health issues. And it's really frustrating because I mean, there can be like a competency hearing, but they understand what's going on and so they just go through, but there's so many of my clients in jail or in prison with mental health problems and some of them are really severe. Do you have ideas about what can be done with that? Or I know governor Newsom has this CARE Court that I think is supposed to address mental health. And if you heard anything about that?

Hon. Mark McCannon 18:31
There needs to be a buy in, you know, by the prosecution, by the, by the courts that, you know, we're gonna work together on that. Because I think we all can agree that when a person suffers from mental illness, sitting in jail isn't gonna fix it. There has to be a better way of addressing these issues other than putting someone in jail and letting them serve their time and then releasing them with the same mindset that they had when they went in. People often say, "Well, I'm not a social worker." Well, in fact, we are. If you're a defense attorney, you're a social worker. If you're a DA, you're a social worker. If you're a judge, you are a social worker. And I think that we all need to just open up our mind and just realize that there is a problem here. There might be something else motivating this individual to do these actions other than them being just a bad person.

And I think that it's hard to ignore right now because you see it when you walk outside. You see all the tents and the people out there, you see people talking to themselves a lot and which is sad. And, but I think that we all need to have sympathy. We all need to care. What happened to these people? And I'm not saying, you know, be soft on people, I'm just saying, you know what? There's a way to communicate effectively with people and there's a way to cause more harm.

Louis Goodman 19:55
Thanks Judge. Thanks Helen. Harlan Simon, do you have a comment or a question for judge McCannon?

Harlan Simon 20:01
Hi, thank you very much, Louis. Judge McCannon. I apologize, I realized maybe I should have taken off my hat and treated this like a courtroom.

Hon. Mark McCannon 20:11
You're not in court. You're fine.

Harlan Simon 20:13
I appreciate, yeah, to Helen's question when I was a Public Defender in Compton, you know, I used to do trial after trial and we had very liberal voir dire back then. Sometimes cases would be two, three weeks on a misdemeanor. It was crazy, but I remember going home and thinking the money that that cost the system, my clients, if they had had a summer program, if they had been able to go to camp, if we had spent, if the society had spent a fraction that it was spending on this trial, it just, it kind of killed me. Cause I think a little prevention would've gone a long way.

Hon. Mark McCannon 21:00
I mean, I think that the early intervention is when people are kids, you know, I know sometimes people have tough upbringing, but you know what, in school, the school should be geared toward making them better people educating them. And I find that we have neglected the educational system in this country. Before I passed the bar, I was a substitute teacher. So I taught in North Oakland. So I think that society, we need to prioritize education. And so I think that you really need to start early, early on, but also, if they do come before me and they have not had those positive experience in their lives now is the time to give them a positive experience because when they come into your courtroom, they automatically think you think they're guilty or you're gonna yell at them.

Maybe you treat them with respect. And you talk to them like they're a human being and they made a bad mistake, that doesn't make them a bad person. You have to show them that somebody cares. And I think that that goes a long way to getting a result that's great for everyone involved.

Louis Goodman 22:14
Thank you, Judge. And thank you, Harlan. Sharon Ceasar, do you have a question or a comment for Judge McCannon?

Sharon Caesar 22:21
I apologize for stepping in late. I had another meeting to go to. One of my favorite judges. Well, how about yourself?

Hon. Mark McCannon 22:26
Good. Good to see you.

Sharon Caesar 22:27
Good to see you too. I have to agree with your comment about attorneys being social workers, especially with clients who have mental health issues. I find that I have to be there for those kinds of clients in more of a social worker role than as an attorney role because their needs are more social than they are some, I mean, yes, they're in the legal system, but they don't get, they can't get there without you dealing with their immediate needs, which are their social needs.

And so I end up sitting around, talking with clients about housing, where you're gonna go, how do you get a caseworker, how do you, especially in Alameda County where different cities have different protocols for, for these kinds of clients to get services like Berkeley mental health is different from Alameda County's, and Oakland's behavioral health set up. So it's really important and I'm glad you brought that up, that attorneys have to step out of that role sometimes of just looking at the legal issues and trying to help the client address their more immediate needs of, you know, housing and food. And then you can, once they are stabilized or at least heading in that direction, then you can address the legal issues.

So I just wanted to comment and say that that was a great idea, a great statement that attorneys need to not be afraid of relating with their clients and acting somewhat like a social worker.

Hon. Mark McCannon 23:58
If you fix a lot of these social issues, these issues are the reasons why they're in front of you in the first place, lack of housing, lack of education, lack of income, things like that. If you kind of address those issues and you're open to speaking to them about, you know, these problems and giving them some constructive advice, you know, then I think that you do a lot to prevent them from getting in the system. Recidivism rates might go down, things of that nature. We need to start having a lot of faith. We need to have faith in people.

Louis Goodman 24:33
Judge McCannon, thank you so much. Well, I'm gonna close this meeting because we are unfortunately pretty close to being out of time. I wanna thank everyone who joined us today and asked questions and made comments. I think it really added a lot to the discussion. Judge Mark McCannon, thank you so much for joining us today at the Alameda County Bar Association and the Love Thy Lawyer podcast, it's been a pleasure talking to you.

Mark McCannon 25:01
And I wanna thank you, Mr. Goodman, for having me. And also the folks that asked me questions and spoke up. I really enjoyed being here. And I think that this is a good program to have.

Louis Goodman 25:12
That's it for today's edition of Love Thy Lawyer in collaboration with the Alameda County Bar Association, please visit the lovethylawyer.com website, where you can find links to all of our episodes.

Also please visit the Alameda County Bar Association website at acbanet.org where you can find more information about our support of the legal profession, promoting excellence in the legal profession and facilitating equal access to justice.

Special thanks to ACBA president Pamela Ross and Criminal Justice Chair Annie Beles, staff members Cailin Dahlin, Sayeed Randall, Valerie Brown Lescroart and Hadassah Hayashi.

Thanks to Joel Katz for music, Bryan Matheson for technical support, Paul Robert for social media and Tracy Harvey. I'm Louis Goodman.

Mark McCannon 26:14
So, I mean, so when are the Oscar nominations.

Louis Goodman 26:19
You know, it's just too dangerous.